Distance Learning Webinars
Recorded Webinars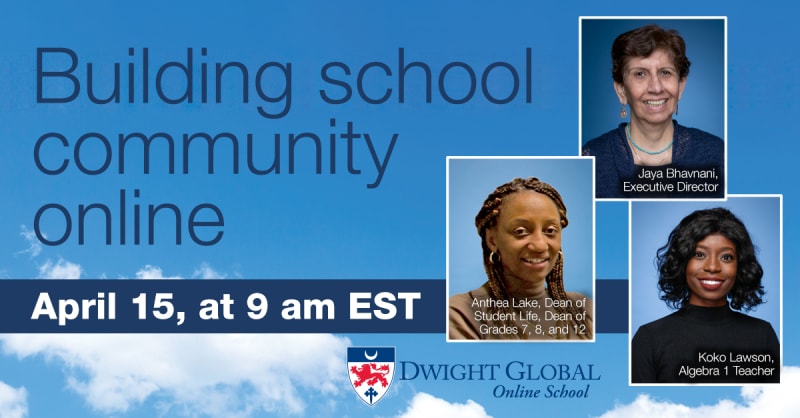 A far cry from the isolated experience many associate with remote learning, today's online schools have the potential to build, and even create, vibrant school communities. Join seasoned online educators Anthea Lake, Jaya Bhavnani, Koko Lawson, and Louisa Childs, as they discuss tried and true strategies and tips for deepening connections and building relationships among teachers and students while online.
​
Online Educators Share Lessons Learned & Practical Strategies for Remote Teaching
Seasoned online teachers Renata Nikolayev and Nicole Hamilton share best practices and learnings to support fellow educators as they construct online courses in response to school closures. Classroom teachers themselves, our speakers know firsthand the ups and downs of teaching online, and they will offer support, words of wisdom, and top tips suitable for teachers new to online learning as well as more experienced online educators.
​

Managing Stress While Learning at Home
Dwight School Counselor and School Psychologist Michael Haber will share tips for managing stress and anxiety while learning at home. Drawing from over a decade of experience in dealing with students, teachers, and families, Mr. Haber will provide valuable advice for helping children and parents navigate the current health crisis.
​
Been There, Can Share: Tips for Students New to Online Learning
From time management strategies to motivation, from how to keep up with friends to how to build a school community, students who are already familiar with remote learning have lots of insights to share. In this session, Dwight Global students will offer emotional support and answer questions about online learning from those students who are just beginning their journey due to school closings. This teen-to-teen event is an opportunity for every student to connect, understand, and be reassured.